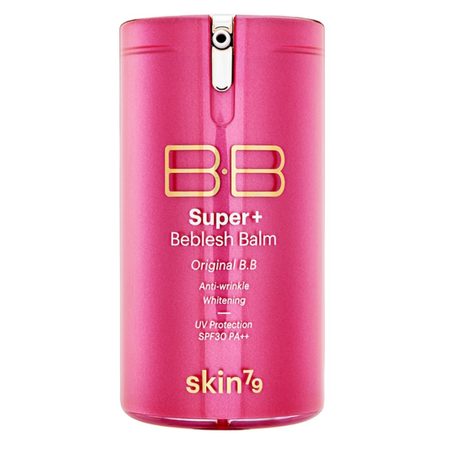 Skin79 Hot Pink BB Cream Rewiew
BB-cream.cz 23. 03. 2021 Blog
Skin79 Hot Pink BB Cream makes your skin matte and glowing but it stays natural
I was very curious about trying this BB Cream which is suitable for all skin types. So, let's have a quick description before my experiences. Hot Pink BB for caring sebum control to keep your skin without darkening. Natural ingredient cares skin greasiness and presents powdery skin. BB is non-comedogenic and non-oily and leaves skin fresh and bright. It contains SPF30 PA++ and promises to be wrinkle free and whitening. Korean BB Creams are usually in beige tones, they are very pale and they don't have cool tones or warm.
Just for your information, BB Cream is basically a foundation mixed a cream. If you are looking for the lightest coverage possible, it is your best option. I have started my first Skin79 experience with my usual skin care routine. I usually use toner and moisturizer every morning and then I put BB Cream on. Hot Pink absorbs to the skin so quickly and leaves on my face a healthy tone which I want. Skin looks relaxed like after full night proper sleep. Despite you're working hard and studying until late, this one can wake you up in the morning in your best skin condition. After first use, Hot Pink made my skin smoother and a lot more even. It minimized my pores so, they weren't that visible and my face looked so nice. Finish is not radiant and not over to much matte. It is just very natural like my skin.
It provides medium coverage which is a nice compromise between being natural and to have something on the face. I do have some pigmentation on my skin but after applying Hot Pink it wasn't so visible. Also, whitening in the Asian skincare means brightening, combatting dark spots and making just fresh skin. Hot pink makes your skin uptight with less visible wrinkles. SPF 30 will protect your skin outside against UV ray. You also, does not need to have another SPF product because this is all in one. I can consider Hot Pink more like skin care because of all its benefits.
In the end, I can very recommend this BB. As I said it also suits to my combination and a bit oily skin very well. It really improves the look and the texture of your skin very nice texture on skin. It makes your skin look super healthy, natural and matte for many hours. Hot Pink just gives you all what you need of BB Cream. It makes very natural finish and naked skin effect and your skin stays hydrated all day. So, it's just good every day choice for €19,95 on bbcreamshop.eu.